FOCUS WATER TREADMILL
FOCUS WATER TREADMILL

Designed to provide proper upright hydrotherapy treatment, this functional design has all the essentials for effective therapy, rehabilitation and fitness using a water treadmill.

With optional extras such as resistance jets and automatic water management, FOCUS is used worldwide as a cost-effective option. Patients of all ages and abilities benefit from this easy-to-use benchmark product.




HYDRO PHYSIO provides a light exercise thanks to the buoyancy of the water through the treadmill in the exercise pools.

In all age groups, regardless of walking proficiency, HYDRO PHYSIO provides significant benefits for a healthy life, fitness and a fit body.




General benefits:
Post-operative recovery
movement enhancement
weight management
pain management
fitness before and after pregnancy
general fitness
FOCUS is designed for hydrotherapy treatment standing and walking.




FOCUS contains all the necessary features for effective therapy, rehabilitation and fitness. With its easy use, patients of all ages can easily benefit from this product.
BENEFITS OF HYDROTHERAPY

SPORT CONDITIONING AND PERFORMANCE: Sports injuries can be serious and form is easily lost. The timing of rehabilitation depended on the injury's healing to a stage where it was 'ready' to begin exercise. Strengthening and conditioning the body for overall performance can be greatly improved by training on a HYDRO PHYSIO water therapy treadmill. Water training provides both low-impact and hard training.

Why Hydrotherapy is Better than Terrain-Based Exercise:

Faster Recovery
Increased Movement Range
Therapy May Begin Before Traditional Rehabilitation
Limiting Loss of Form
Less Demoralizing Inactivity




HEALTH AND FITNESS: As we age, the body loses muscle mass and strength. Keeping the core strong and keeping the posture aligned can greatly reduce the effects of an aging body.

Research shows that exercising in water can promote:

Increased range of motion and flexibility
low blood pressure
an advanced respiratory system
Reduction in stress levels
A greater sense of well-being and confidence




HEALTH AND WEIGHT LOSS: A HYDRO PHYSIO treadmill system offers a solution to these problems, burning almost three times more calories than the same ground workout. The HYDRO PHYSIO treadmill is ideal for losing weight in less time than its land counterparts.

Why Hydrotherapy is Better than Terrain-Based Exercise:

High Calorie Burn
Increased Metabolic Rate
Better Cardiovascular Endurance
Exercise in Water Causes Less Pain
Faster Results




POSTPARTITIONAL HEALTH: Hydrotherapy has helped many women with SPD symptoms during pregnancy. Gentle walking on the treadmill with the resistance of water works by relaxing the body but strengthening the core. This stronger core is essential for curing pain and preventing worsening of the condition.
Why Water?
Water offers much more resistance to motion than air. This supportive environment builds user confidence and encourages slower, more informed movements that aid monitoring and analysis. Typically, users of HYDRO PHYSIO aquatic therapy treadmills experience a reduction of approximately 60% in effective body weight by performing lower back exercises in the depths of water; this can be especially helpful during rehabilitation and exercise.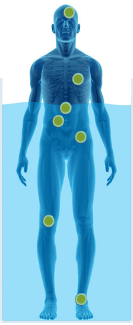 Neurological
Cardiovascular and Respiratory
Spinal injuries
Core Stability / Weight loss
hip replacement
Knee and Lower Leg Injuries
Ankle Injuries

Therapeutic Properties of Water
hydrostatic pressure
Lowers heart rate and arterial pressure by aiding circulation
Reduces peripheral edema
Increases metabolic rates and calorie burn
Increases thoracic pressure improving cardiovascular conditioning

Temperature
It relaxes the user
relieves pain
improves circulation
float
Reduces strain on painful joints and muscles
Increases flexibility
Increases core stability
Resistance
Supports weak muscles and limbs
Significantly increases exercise intensity
Surface tension
Targets specific muscle groups
Helps balance unstable patients or recovering athletes

Speeds Between 0.5 – 16kph

1200 mm Maximum Water Height

40° Maximum Temperature

Recycled Purified Water System

UV Cartridge Filter

Wheelchair Ramp Access

Touch Screen Controls

Underwater Lighting
Folding Seat
Resistance Jets

Floor covering

Treadmill Incline

Removable Railings

Heavy Duty Seat

Poolside Option

UV Sand Filter
Maximum patient load:          250kg (the buoyancy of the water is assumed to lift 50% of the weight.)
water depth:    0 – 1200mm (48")
treadmill speed range:      min 0.2 km/hr –  max 11 km/hr
Filling/discharging time:      about 3 minutes 30 seconds
Temperature range of the environment for use:         – 38°C (100°F)
Dimensions:           L 1640mm (65") x W 880mm (71") x H 1650mm (65")
Total system weight
Empty 1050kg
full 2850kg
Capacity:         1800 liters
Strength:     400V 3 faz, 50/60hz 30A